New Airstrip Unites Haitian Community and FBC Gettysburg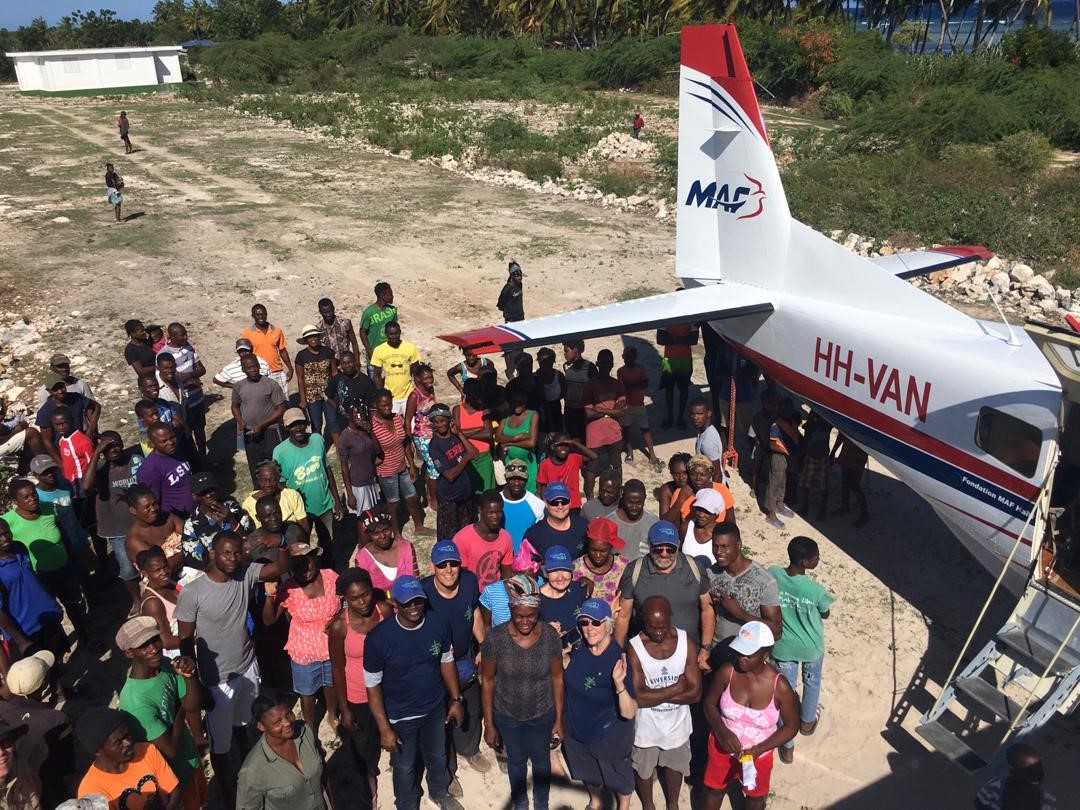 In response to the 2010 earthquake, the Lord impressed upon our hearts to go to Haiti to share the good news and to be an encouragement to the followers of Christ there. We have responded by taking numerous trips providing medical clinics, construction opportunities, teacher training, local business investment, and resources in the love and name of Jesus Christ.
In 2016 work on an airstrip began on the far side of the island. In January 2019 the airstrip was approved for humanitarian flights. Click here to check out this great article on the airstrip.
Haiti News

Praise be to God as we returned in the beginning of June 2017 to resume work on the private air strip south/east of La Source, La Gonave Island, Haiti. In November of 2016, we hired 150 Haitians to clear 100' x 2500' section of land that parallels the ocean. We were able to complete 550' with a great packing material that we found along the beach. We returned in June to again hire 150 Haitians (182 on our last day).
In November, and on the first day of June, we took note that 30 workers could level a 100' section in a day. Based on this rate, we divided the strip up in 100 foot sections and gave each section a dollar value (based on one day's labor). We invited them to do as many sections as they wished. We heard that at 3:30am during the rise of a full moon, a man was going through the village calling for workers to go to the fields. Under moon light teams assembled and went to the strip. We arrived at 6am to find 100 workers already busy! At end of the day (night fall) one of the teams of 30 had completed 3 sections (most others completed 2 sections), thus getting three day's pay in one day. In total on that day, we complete 800' and we actually spent $100us less! What great workers they are - and many with joy and gratitude.
On the last day, I allowed La Source to add 20 more workers (total 170). But there were 12 workers who did not make "the list" because I didn't think I had enough money to add these 12. But to my surprise, these 12 men stayed and worked a whole day! When approached they simply said, "We wanted to work. Pay us when you return on your next trip." Thanks be to God, that He stretched out my money and I was able to pay them at the end of the day. In total we have 100'x2500' cleared, and 50'x2250' of leveled and packed material (trusting land ready - see walking the air strip video).
We were also given access to one of the buildings at the north/west end of the strip which is a beautiful place of tiled floors and flushing toilets. This building can be used for weigh-in.
We met with the two magistrates on the Island, and were also blessed with a visit from their 5 motorcycle brigade. They are delighted that this is happening! Upon the primary land owner settling their back taxes and writing a letter to release the land, the magistrate will send a letter of request and approval to MAF and to the Haitian Aviation Authorities.
At the end of our trip, David from MAF informed us that he would take us from the southern end of the Island to do a fly over (see the fly by video)of the new strip. It was amazing and quite emotional for me to see the strip from the air, and to hear the pilot's enthusiasm! What would normally take a truck 3.5 hours (if you don't get a flat tire, run out of gas, have a spring break, or get stuck) to cover on the roughest trails, took only 8 minutes by air. To some, 3.5 hours is not that big of a deal, but I can tell you that it makes all the difference in the world. Fewer and fewer missionaries, doctors, dentists, social workers and humanitarian workers make the trip north (and having made the difficult trip many times, I understand). It was over three years ago when we first took a medical team to La Source that they said that it had been 5 years since a doctor had come to the village. An air strip on the northern end of the island will improve life for many of these dear people and will also save lives as the critically ill can get medevaced off the island, with PAP now only 28 minutes way!
Please keep this private air strip in your prayers. Land inspections will need to be made and the authorities will need to approve the strip. If you would like to support any ongoing projects on La Gonave, you may send your gift to: First Baptist Church Gettysburg, 1015 Chambersburg Road, Gettysburg, PA 17325 - you can also use your credit card by going to the place on our web - please indicate "Haiti". Reverend Carl Harris, , 717-334-2564.
.............
In June 2016 we completed our 9th trip to La Gonave Island, Haiti. This most recent trip was comprised of young people (six teens) who served in a variety of ways. Some led soccer camps and brought some needed teaching to their peers while others offered Vacation-Bible-School-type camp for children aged 3-5. Our young ladies also taught a two day workshop to girls aged 13 -23 on the importance of purity and walking with the Lord. In response, we witnessed a total of 39 people make decisions to trust Jesus Christ as their Lord and Savior!
Diane led a workshop for teachers (K-2nd) from 12 schools around the region and gifted each with an array of supplies! Jenny and I brought a two day marriage enrichment class to the local church. I also had the great privilege of preaching in Gros Mangles and La Source and giving a word at the ribbon cutting ceremony of the RO water purification system that we paid to have installed (and worked on its building this past January).
We are winding down a 5 year walk with these dear friends in Haiti and will most likely not send a team in 2017. Yet we will continue to explore the possibilities of helping to develop an air strip in La Source and will still work to help in the utilization of the beautiful (empty) World Vison Building there. If you would like to support this ministry please keep these loved ones in prayer, and if you want to help financially check out the support option on our church web page.

Blessings, P. Carl
----------

A mission team went to Haiti in January 2016 to continue our ongoing missions there. Our team was comprised of a medical team, construction team and teacher training personnel. We are excited to have a second opportunity this year to continue our efforts.

The second trip will be June 16 - 23, 2016 and will focus on visiting and ministering in the three villages where we have had ongoing ministry. We will be involved in ministering to the locals through the local church for this trip. The cost for this trip is $1,100. Applications are available in the church foyer. Contact Pastor Carl if you are interested or have more questions.

----------
During our 2015 Haiti trip, we were presented by the Nazarene Church in Gros Mangles, Lagonave Isle, to help them establish a reverse osmosis water treatment plant on the ground of their church. Not only would this provide clean drinking water to the 400 school students that attend there, but it would also provide drinking water to the hundreds who attend worship services every night of the week. Plans include selling some of the water at a "reduced price" to the community and to use the income to help keep the system maintained and running. We joined with several other churches to help raise these funds and were excited to meet our goal in doing so!